Cerebral palsy is a lifelong disorder, affecting movement and posture.
Cerebral palsy describes a group of conditions affecting a developing infant or child's brain. It is the most common physical disability in childhood.


The condition results from damage to the brain that occurs during pregnancy, at birth, or within the first two years after birth.


Depending on the extent and location of the brain damage, movement and posture is often affected, though these features are often accompanied by other difficulties.
Make A Donation
Just RM50 can change a life with CP today.
Signs of CP
Causes of CP
Types of CP
Signs of CP
The main signs for cerebral palsy are delayed development and difficulties with movement and coordination.
There can be indications at birth that may suggest your child has cerebral palsy, however generally signs become more apparent as your baby develops. Difficulties with movement and coordination are also often noticed by family.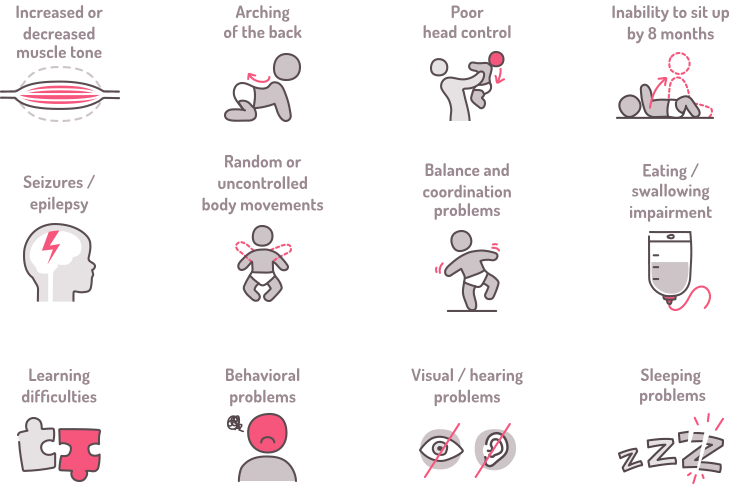 Source: nestlehealthscience.co.uk
Other signs that your child might have cerebral palsy include:
Low muscle tone; your baby may feel "floppy" when picked up;
High muscle tone; your baby may feel stiff when being picked up or moved;
A baby may show jerky or uncoordinated movements;
A baby may be unable to hold up their head while lying on their tummy or in a supported sitting position;
A baby may find feeding and swallowing difficult;
Not rolling by 6 months;
Delayed development such as not sitting and balancing on their own by 12 months, not walking by 18 months, or not speaking simple sentences by 24 months.
These signs do not necessarily mean your child has cerebral palsy. But if you have concerns, please speak to a doctor and read more about how you can access our services.
Causes of CP
Types of CP